Would this gaff-rigged catboat make a decent sailing footy?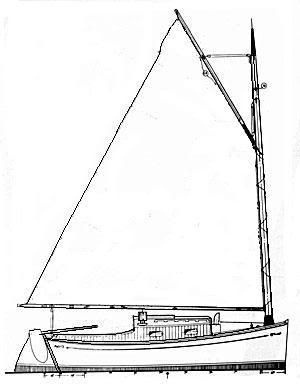 Since I know nothing about designing boats, I figured starting with this little 19' catboat might help, especially since it's got the look I want. Would following the scale sailplan yield a reasonable model, or do I need to make adjustments? The changes I'm assuming I'll need are :
add keel and bulb
lengthen/deepen rudder
Are there others you guys would suggest? Should I scrap the semi-scale idea entirely and go with one of the footy plans (not my preference, but I'd also like my boat to sail)?
I'm obviously not looking to win regattas, but rather have a fun, cute little boat to play with on the lake, and on the off chance that I ever make it to a footy event, be able to "compete" (i.e. lolligag behind the rest around the course)
thanks,
Rick (who will have to hit up graham for his source of dapper little footy-scale sailors, since this boat would definately need one)