The Footy class insignia as we all know is the "Footprint" shown here.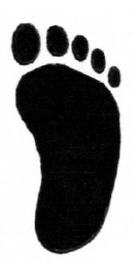 G.2 The class insignia shall be displayed on both sides of the mainsail as shown in the diagram. They may be handed and placed back to back.
My question is which way around should they be.
I am sure that somewhere I read that the big toe should be toward the front but I cannot find that instruction now that I look.
Should there be a convention or a recommendation or a rule or does it not matter and I obviously have too much time on my hands and not enough to think about.
The class webpage shows both orientations so is not a lot of help.
Perhaps the proposed "MINIMULTI" class should have the insignia of two feet side by side and opposed (as you see when you look down "bending over to see past the tummy in my case [SIZE=2]) :lol:[/SIZE]