For guys like you and me Nigel, I've posted a link to the Team Invictus site. There a bunch of pics of the Class C Cats in all their glory.
http://www.team-invictus.co.uk/Gallery/Historical/historicalLAC.htm
Here's a teaser …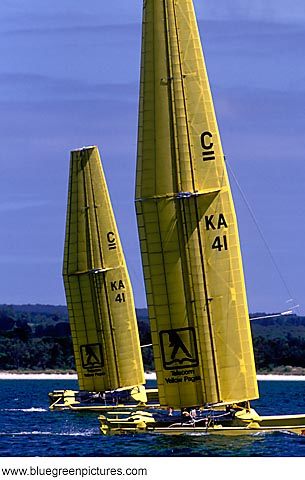 Why, you're all asking is this relevent … it's relevent because the Class C cats are a pure open dev class … the only rules are that they must have a beam no wider than 14 ft, be no longer than 25 ft loa and have a restricted Sail Area of 300 sqft which means that's right … they are footies x's 25!!
So, who's going first … !? The RCYC boys have Patient Lady and the new Alpha here in Toronto; and the English, Aussies and Yanks are lined up with the most sophisticated fleet to date … cup goes off in September of this year at the Royal Can in Toronto … it WOULD be a kick to field a team of micro cats at the same time … C'mon guys, I'll even throw in a motivator as feeble as it may be … if someone can make it work, I'll underwrite a multi boat build and host an event right alongside the real deals … beer and burgers and the fastest class in the world included …
T
And hey … no blah blah blah about scalability and hydrodynamics and rufus numbers (oops reynolds numbers) … or that other multiple rudder business either …

:zbeer: :lol: