The local sailboat club had a race at the Botanic Gardens yesterday. The program said, "Bring a boat and join us," so I did. They race "Solwind" boats, so my Nirvana was a little outclassed by the bigger boats, not to mention that I'd never been in the water with other boats before.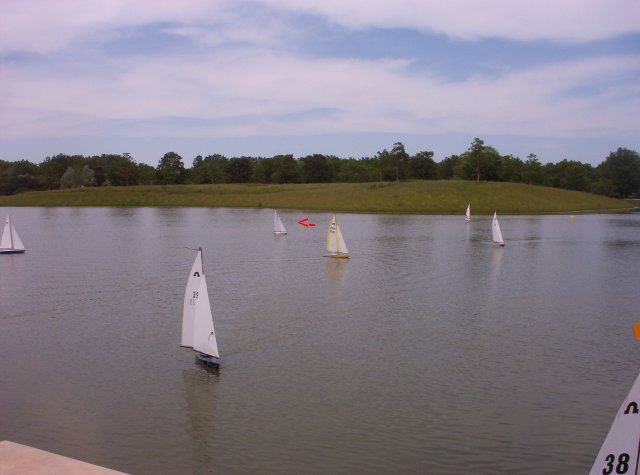 I set myself a goal of not finishing last and participated in 3 races. In my first race, I actually rounded the second bouy with other boats. I was trying to turn into the wind and was outside some other boats, so I decided to turn starboard and get out from behind them. They all turned the same way. I lost ground on the upwind leg when I couldn't get pointed any way but straight into the wind. On the second race, I got a late start, and was 1/2 way through the second lap when they started another race:rolleyes: so I sailed out of the way and watched. In the 3rd race, I got a good start, rounded the first and second bouys with other boats but again lost ground on the upwind leg. There seemed to be more breeze farther out and I managed to catch up a bit and got ahead of some of the bigger boats when I realized the wind was coming a little from the side and hauled in my sail a bit. I rounded the last bouy and tacked way out so as to stay in the stronger breeze. Somebody commented that I was doing pretty well, but when I turned to port tack, the breeze changed and I went luff and it took a while to get my bow out of the wind. I then battled for last place with a blue solwind. We both could go real fast on starboard tack, but couldn't go anywhere on port tack. He finished a couple feet ahead of me.
"So that's a Nirvana? I see them all over the internet. Pretty nice." There was a beautifully detailed Footy sailing around. I didn't get a close look at it.

The racers all packed up very suddenly and left. Since it was such a nice day, I sailed around for another couple hours before heading for the railroad garden.
I think I didn't do to bad for a railroad engineer:D