any one talk me through the process of posting
images ?

Nobody's replied?
First off, you need access to a web server. You size your picture and upload it to the web server, then put the URL between [img] tags like this:
[img*]http://www.tomruby.com/mls/100_1700s.jpg[/img*]
only you leave out the *'s I put in so it'd show you the tags instead of the picture. Here's the picture:
i'm guessing that this method is different to the pic attachment way, when one replies. that, i guess, is why my pics are so small.
so where do ya access a web server?
this is just a test


NOW i feel smart.
how do i name the album, and get an address to post, so i can direct viewers to the whole album?
nigel,
photobucket will place three 'links' under each picture. One is a tag, image, and an url. you can use the 'tag' and 'image' for posting on forum boards, and the 'url' to send people to the photo on your photobucket page. you can find your album information and 'url' in "my account", just copy the link and post that on the thread. just make sure your album is public so that it can be viewed by everyone.
ps. if you didn't notice, photobucket allows you to post videos like this: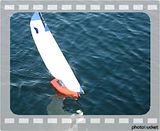 thanks man. bill gates look out. i'm learnin.
here goes.
if any go to my photo page, make sure yer over 18. their are some novelty items that may not suit younger viewers!
oh, please don't judge me by these items, i make whatever the clients want.
just want to let ya'll know that me album is of now more for now.
so don't click on it. i mean ya can if ya want to, but it has been deleted
Tom the Brat, that's a pretty cool location for a rc yacht pond. Is that an apartment or office building in the background? You can sail your boat while sitting in the living room, or while at your desk.
yar
hi am new here…
i use photo bucket and flicker.