Hello Footy Builders!
Let me introduce myself first: I am from Holland, live in the eastern part of it, near the German border. I am married and have 2 boys (14 and 18 years of age).
I am not a newbie in RC modeling. I have built several e-motored boats in the past. I also have build a 1 to 100 scale model of the Marieje, a 1898 build Danish Galjas. (You can see the original here. The 1 to 100 model is described on the site as well: here it is!
At this moment I have a 1 to 20 scale sister on my workbench. (Although I have not worked on that model much recently.) This 1 to 20 model must be a really sailing version. In sailing however, I am a novice. So, I decided to build a Footy to get some experience in sailing.
I know the Footy concept for some time now and last month I have built my first Footy!
On the Footy site there are some nice drawings. Papaya III is a very complete drawing, good for a Footy novice like me. I found some foam sheets, left over from the flooring. I decided to use this as my building material. After some experimenting with different kinds of glue, I had a Papaya hull.
Sorry to say, but I didn't like the hull that much. I had seen plans of the Flatfoot hull and tried that one for a hull. Yes! That's the one for me.
So: I combined the Flatfoot hull with the Papaya rig, keel and rudder.
(I have posted my experience with this already on the Dutch Model builders forum: you can find it here and on the German Footy forum: click here.)
Now I want to share this with you as well!
Building photo's: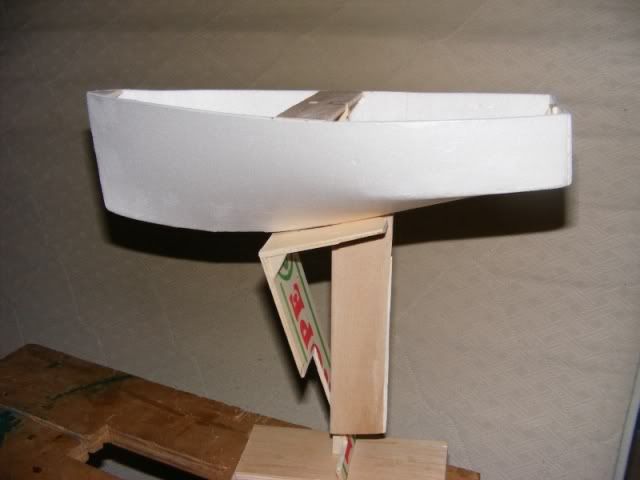 And then: The moment were she is afloat for the first time (in a plastic bag to protect it: it was not lacquered at that moment)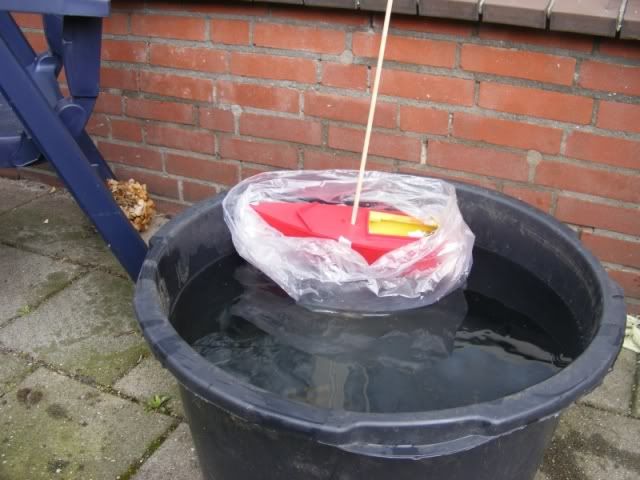 At that moment the waterline could be painted on:
(continued)